Our technical and tactical approach means
that the targeting is right and the leads are hot.
"The investment that DeBragga has made in Creating Digital has paid for itself over and over again. We look at Creating Digital as our partner."
- Stephanie, Marketing & PR Director, DeBragga.com​

"Especially compared to other NYC agencies, the value that we get from working with Creating Digital exceeds expectations."
- Gerry, Director of Technology Operations​


Winner of The Best
in Web, Digital, and
UX Design from
GD USA
Not into marketing
for the street cred?
Neither are we.
Meaningful marketing that fits your business
We work with businesses in New Jersey and New York that serve local and national customer bases. While a generalist will cast a wide net, our trained team of digital marketers hones in on increasing sales for your most profitable products and services.
Digital marketing strategies that support established businesses
Onsite technical, onsite content, and external link-building work to bring you targeted search traffic that converts into paying customers.
Using advanced targeting methods, we narrow in on your ideal audience to bring in the exact right leads for your business.
Your ideal customers are searching for you in Google and Bing. Show up and meet their needs with perfect landing pages for their queries.
We take a very SEO-focused approach to content marketing, so you're not producing pretty, pointless content but traffic and revenue generators.
Our email blasts, segmented newsletters, and automated campaigns convert leads into customers and customers into repeat buyers.
Adapt to market changes
and reach your goals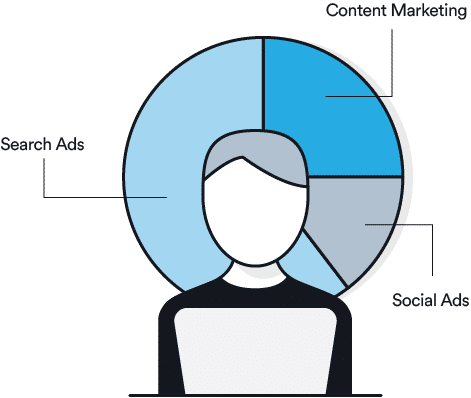 While all of the digital marketing services we offer are a great fit for any established and profitable business, the mashup is always unique.
Are you failing to drive organic traffic and fully dependent on ads? Content marketing is your next hill to climb. Are you growing slowly and ready to turn up the heat? Go for search ads.
At Creating Digital, we take a practical approach to every business decision. Get in touch for a consultation.
- Stephanie, DeBragga.com
- Bob, Founder, WickerWarehouse.com
Trusted digital marketing agency services in New York and New Jersey
Big city. Big promises. From our office in Hoboken, we love to surprise clients—especially those who have been disappointed with New York agencies—with our no-nonsense, pragmatic approach to digital marketing. When it comes to marketing, the truth is that creative talent is only 10% of the work (maybe even 5%). Behind the scenes, there's the business strategy and technical execution that too many agencies simply don't master as well as they should.
We love being known for realistic promises and real results. Sure, a search ad that brings 3X ROI every month isn't as Instagrammable as a guerilla marketing campaign involving t-shirts and bus stops, but what matters to us is that you grow your business or organization and keep creating awesome jobs in the Northeast.
When you partner with Creating Digital, you get a trifecta: business strategy, creative design, and technical expertise. We help guide you in the strategic direction of dependable leads and sales, and bring the right people to the table to get it done every time. Because we offer web development as well, you can rest assured that any technical implementation required to make your marketing campaign a success will be done accurately, and that results will be tracked across your entire digital presence.
Why choose
Creating Digital as your
digital marketing partner?
Because we support established businesses with the right
strategies and talent.
Work with New Jersey web designers pre-vetted by local marketing executives and entrepreneurs from companies you trust.